After a long  exhausting day of being out on the golf course for work, having dinner out was exactly what I needed. While I thought I would make a poor decision and probably get a burger or something to indulge my day of hard work, I opted for a spaghetti squash Primavera instead. I HAD to blog about this dish. Absolutely delicious, I tell ya!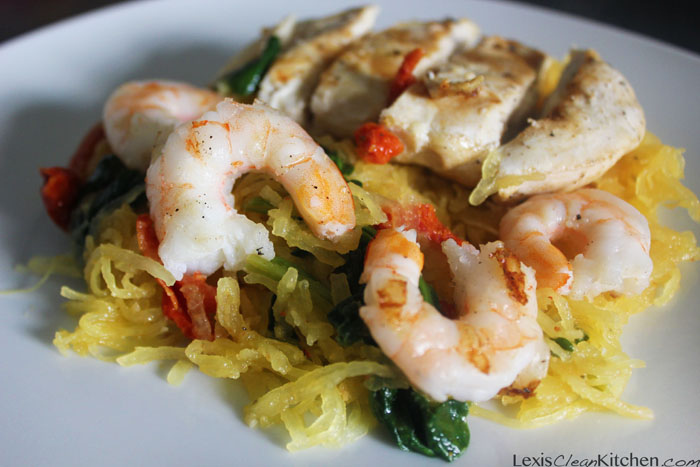 I ordered this from Triangle Char & Bar in Charleston, but found a recipe I think looks similar on Lexi's Clean Kitchen's Pinterest page. The recipe I enjoyed had grape tomatoes instead of sun-dried. I would definitely use grape as I hate the texture of sun-dried tomatoes. My dish only had shrimp, but I think the chicken would really add a new dynamic. Lastly, my dish had Feta cheese. This dish does not have cheese (which is probably a good thing).
Have you ever eaten or made spaghetti squash? If so, share your recipes!
Ingredients
-1 Spaghetti Squash
-2 tbsp extra-virgin olive oil
-2 garlic cloves, crushed
-1/2 tsp red pepper flakes (more to taste)
-1/4 tsp ground garlic
-Freshly ground pepper (to taste)
Himalayan sea salt (to taste)
-2 handfuls fresh organic spinach
-1/3 cup sun-dried tomatoes
-1/2 onion, chopped
-Protein of choice (2 organic chicken breasts, 10 large shrimp)
-Optional: Add in other vegetables (zucchini, broccoli, grape tomatoes, asparagus)
-Optional: Garnish with fresh basil and parmesan when serving
Instructions
1. Preheat oven to 375
2. Roast spaghetti squash (see link below)
3. Prepare protein of choice (I grilled 2 organic chicken breasts and shrimp)
4. Place spaghetti squash in a medium size pot
5. Add oil and garlic and mix well over medium heat to combine
6. Lower heat and add in sun-dried tomatoes, spinach, and any other vegetables of choice
7. Add in protein and mix well to combine
8. Top with fresh basil and fresh parmesan (optional) and serve hot