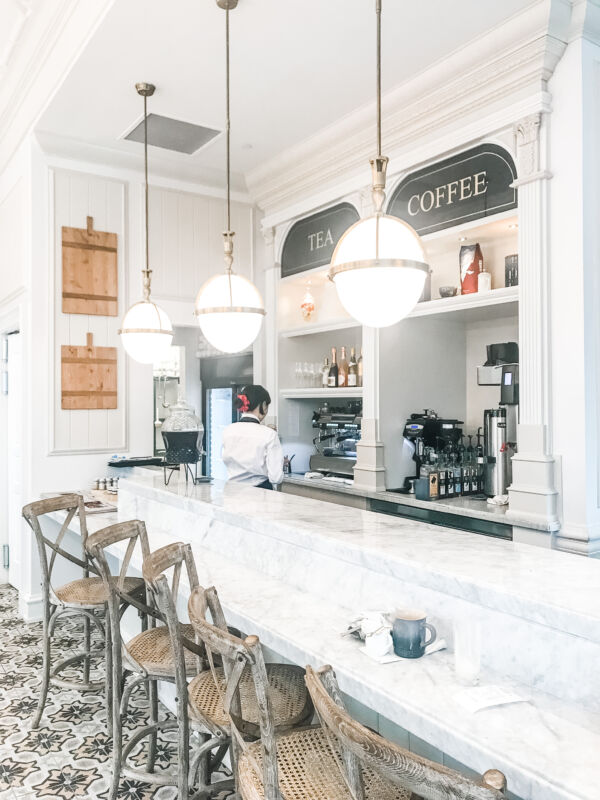 Happy National Coffee Day friends! If you know me, I always show up with an extra large cuppa joe and am ALWAYS down for a coffee date somewhere around Charleston. thought I would share my go-to shops around the area and why I think it's one of the best in town. If you have a favorite that's not on this list I would love to know. Be sure to share down in the comments.
1.) La Patisserie at Hotel Bennett – This cafe is fairly new to the area, but instantly became my favorite spot in town. From the exterior to the interior, this place is a total instagram dream. The gorgeous pattern tiled floor to the classic tea and coffee signs framed by perfectly placed light fixtures, be sure to visit when they first open or late in the afternoon to avoid the crowd and get the perfect shot. The best thing about La Patisserie is the incredible pastries to go with your drink of choice. Rémy Fünrock, is a renowned French pastry chef and crafts the most beautiful and delicious treats. My go to at La Patisserie is the Ham and Cheese Croissant, served warm, and an Earl Grey tea. While the Patisserie is beautiful, I enjoy my tea and breakfast from the couches of the hotel lobby in front of Camellias. It's the perfect place to meet new clients or catch up with an old friend and feel like you can relax into the warm environment.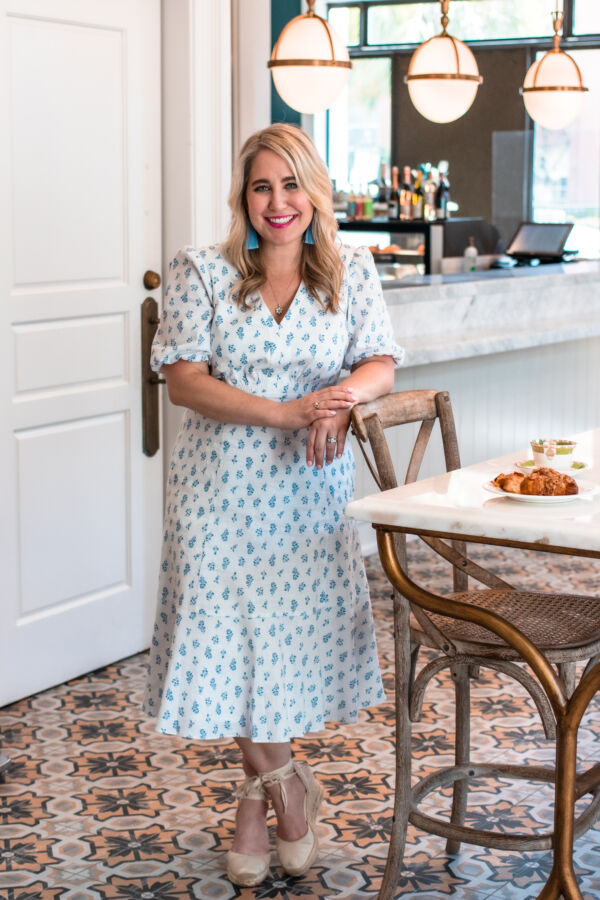 2.) The Harbinger – Located on Upper King, this gem is one of my favorite cups of coffee in town. They brew Methodical coffee and are always serving up tasty plant-based and gluten-free options. I love to go here and work while enjoying the three salad plate or grab a coffee and best friend cookie to go and bop around South of Broad. Whatever you do, get a best friend cookie. It is perfection and will complement your coffee perfectly. Be sure to snap a few photos as this place has major small village shop vibes. The branding is some of my favorite too, and matches the fun water closet wallpaper!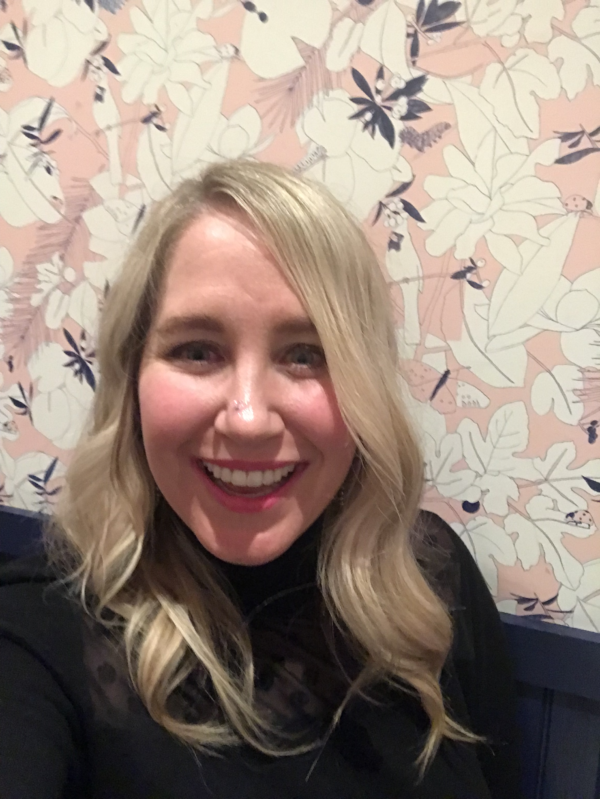 3.) Brown Fox Coffee – Brown Fox Coffee is located in Mount Pleasant and is the cutest coffee window I've ever seen. If you are looking for seriously delicious coffee, this is the place. Her locally roasted brews are so good. I especially love the coconut macaron coffee. This spot is right next door to the Mount Pleasant farmers market, and school drop off line (hey mamas!) and lends itself to pop up markets and live music on occasion. Don't skip this place. Stop by and you won't be disappointed.
4.) Mercantile and Mash – My favorite spot downtown for multiple reasons 1.) parking, 2.) consistency, 3.) one stop shop for coffee, grocery and gifts. Located in the old cigar factory, you can pop in for a locally-roasted cup (Hello Second State), and pickup wine or dinner to go all in one swoop. There are lots of tables if you are meeting someone and the pastries are constantly changing. On Wednesday, they serve up a speciality donut or pop in when they have cinnamon rolls to experience one of the most perfect pastry creations of all time.
5.) Vintage Coffee – Last, but certainly not least, this Mount Pleasant spot is amazing. The outdoor seating is great for mamas looking to get some energy out of their littles, or a great place to tuck in on a rainy afternoon and get some work done. The Turmeric Ginger Chai Latte or Moroccan Mint Tea are my faves and always pick me up if I feel bogged down. The line can get a little crazy in the morning, so I recommend going early or mid-day to avoid the wait.
Don't forget to share your favorite Charleston (or out of town) Coffee Shop below!