To kickoff the new Southern Sophisticate look, I want to introduce my new feature, Southern Selections. While everything I post might not be pertain to the South, I thought it would be fun to poll friends who cross my path on their southern preferences. Without further ado: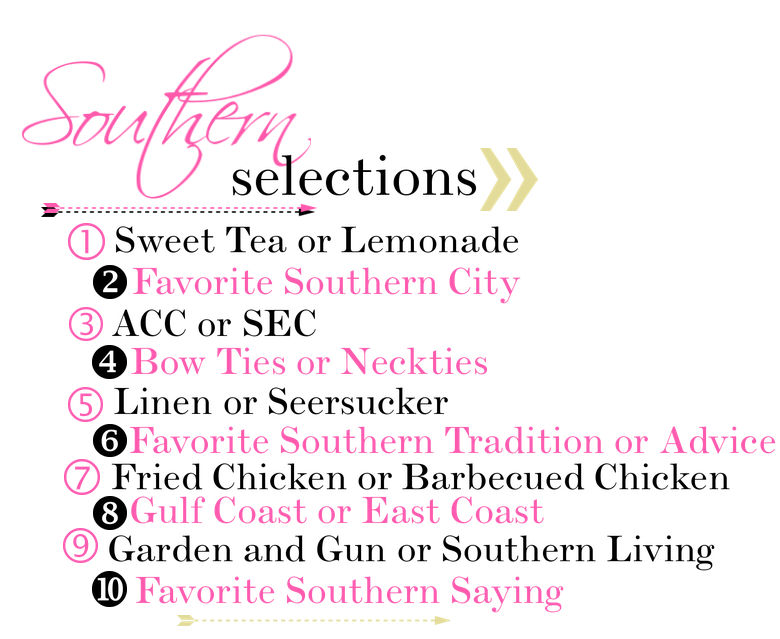 My Southern Selections:
1.) Why Choose? Arnold Palmer!
2.) Lexington, Kentucky…Bourbon, Basketball and Thoroughbreds.
3.) SEC
4.) Bow ties. There's nothing finer than a man in a bow…
5.) Seersucker.
6.) Supper after church on Sunday.
7) Fried Chicken…creamed corn, mashed potatoes and banana pudding. (You know you were thinking it too!)
8.) Gulf Coast…I like to make sure sharky doesn't bite my leg off.
9.) Both. Garden and Gun for content, Southern Living for Recipes.
10.) Goodness Gracious! Hotter than a whore in church on Sunday! Any phrase using "y'all!"
Later this week I'll introduce you to two of my favorite blogging gals. Be sure to tune in to see who my guests are and what they pick for the Southern Selection survey! If you're interested in taking part in Southern Selections, shoot me an email at Cambron@TheSouthernSophisticate.com