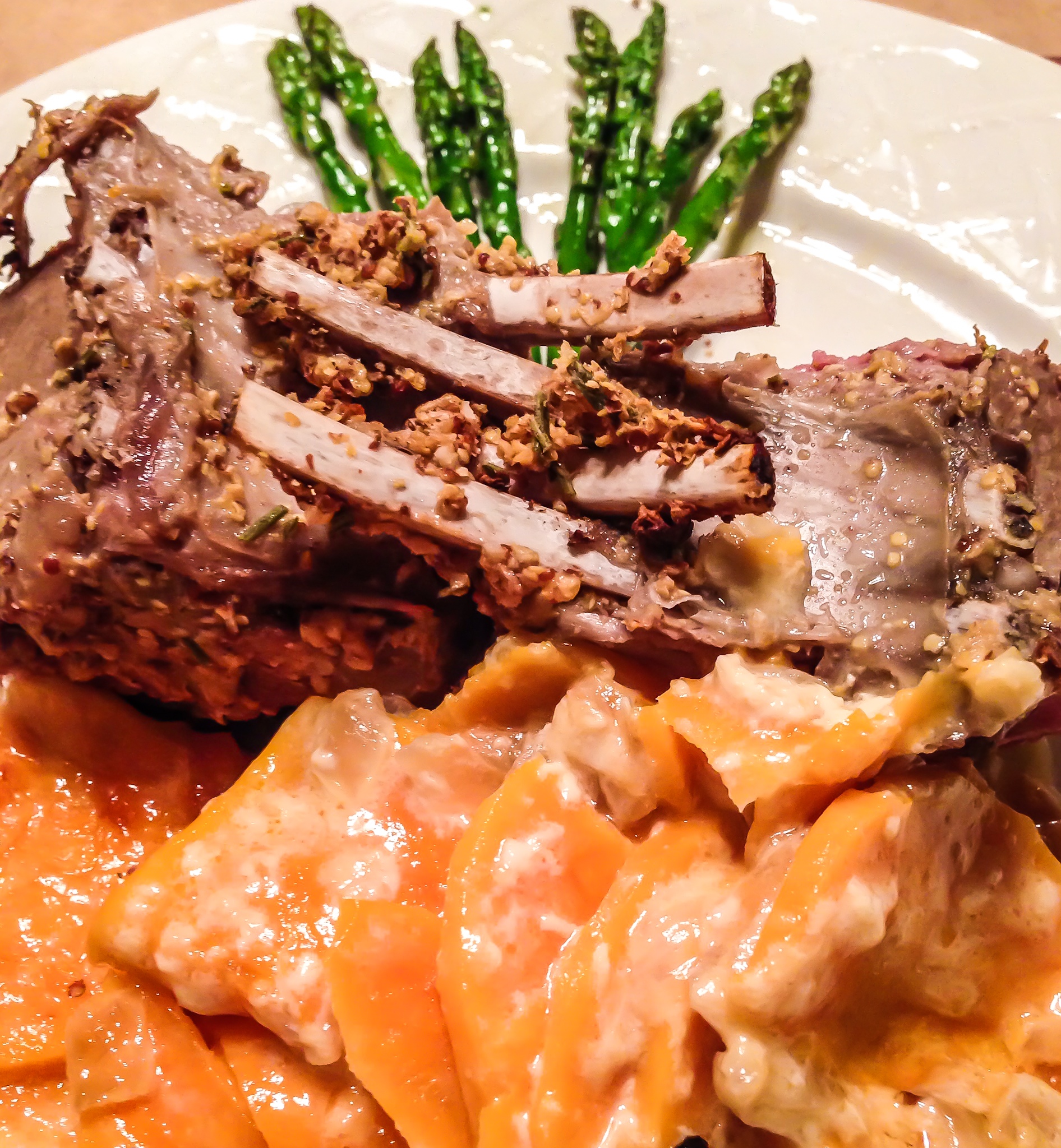 It's crazy and exhausting, but I love cooking….especially during the week. It serves as a stress reliever for me. Almost like running. I am guilty of eating out about as much as everyone else, but when I take the time to make something delicious, it reminds me why I need to keep my refrigerator stocked.
Last night I tried my hand at rack of lamb and oh my dear goodness was it amazing! I found a recipe on Pinterest for Barefoot Contessa's Rosemary Dijon Rack of Lamb. It was super easy and I had all the ingredients for the marinade laying around. I will say, Publix rack of lamb was more expensive than Costco. I would probably go to Costco to cut down on price next time. I served this with Sweet Potato Gratin which is a great addition to the plate and roasted asparagus. You can see a written recipe for the potatoes here. I winged it, but I'm sure Brown Eyed Baker's recipe is great.
If you're looking for a way to wow friends, family or your honey this weekend, take a stab at this. I guarantee they'll love it!
*(Please excuse the poor quality of my photo. It was from my iPhone and was doctored using the Photoshop Express app)
Ingredients
1 1/2
tablespoons kosher salt
1
tablespoon balsamic vinegar
2
racks of lamb, "frenched" (see below)
Directions
In bowl of a food processor fitted with a steel blade, process the salt, rosemary, and garlic until they're as finely minced as possible. Add the mustard and balsamic vinegar and process for 1 minute.
Place the lamb in a roasting pan with the ribs curving down, and coat the tops with the mustard mixture. Allow to stand for 1 hour at room temperature.
Preheat oven to 450 degrees F.
Roast lamb for exactly 20 minutes for rare or 25 minutes for medium-rare. Remove from oven and cover with aluminum foil. Allow to sit for 15 minutes, then cut into individual ribs and serve. Makes 6 servings.