Hey, y'all! It's been a while but I hope you're feeling grand. Today I'm sharing my thoughts on a book I had the pleasure of reading recently.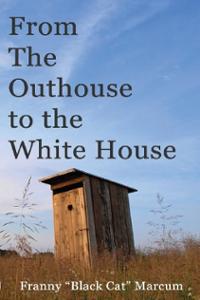 If you've ever met a Southern woman who didn't have a story to tell well sorry, buttercup, but you're probably talking to a phony. From the moment I jumped into From the Outhouse to the White House, I knew Franny "Black Cat" Marcum's book was something I couldn't put down. Growing up isn't easy, let alone in the mountains of Tennessee. Black Cat's wild adventures run the gamut but circle back to the fact that where you come from makes you who you are. A moon-shining Daddy, an angel of a Momma and a few words of wisdom set the tone for the remarkable adventures Franny Marcum lets her readers delight in.
If there's one-thing Southern women know, it's when to keep their mouth shut. Like every other female, this can be incredibly difficult. For Black Cat, an innate ability to overcome challenges and understand what is needed without asking questions provide a unique atmosphere to push through a time of lavish extravaganza in an ever growing Las Vegas. Marcum's determination, wit and mindset of knowing what she (and others) deserve literally open doors at Sin City casinos, among notable "mob" men and stars such as Tom Jones and Muhammad Ali. Just when your head stops spinning from the incredible run-ins you're reminded this is just a day job. Black Cat's personal struggle with a toxic love and a man, who seems too good to be true, literally lands you in the White House. This fast-paced, epic tale is something you must read. If you don't know about Franny "Black Cat" Marcum, well hunny, you're missing out. Black Cat is the epitome of every women, let alone Southern. Jump into this tale of excitement, adversity and passion to overcome and remind yourself that you're not living unless you're creating your own adventure!
If you're looking for something to pick up, From the Outhouse to the White House is definitely worth your time…not to mention it's a true story!