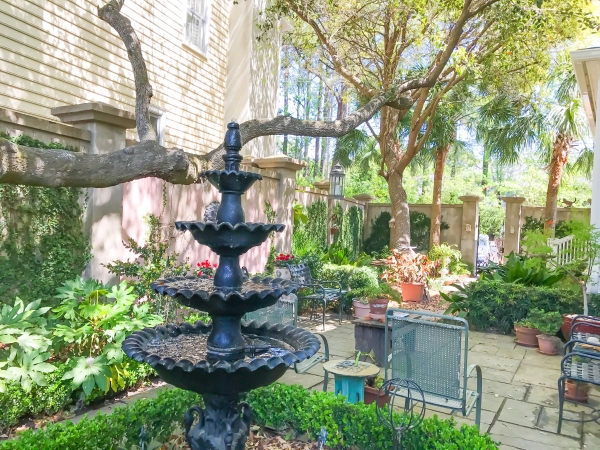 Today is the LAST day in March, y'all! WHAT?! Other than the cold snap early on, this month has been beautiful and has made for several afternoons spent outside. (Look at this gorgeous garden at a home I viewed earlier in the week! Can't you just imagine an evening breeze and a cold cocktail?!) That being said, I am ready for April and a chance to hopefully get to the beach and enjoy lots of family time for Easter and birthday celebrations.
1. | Family Mission Statement: Catherine posted about how she and her husband organize family meetings and focus on what is important in their life based on the family mission statement they created. I find the idea of a family mission statement crucial. How can a husband and wife be on the same page if they don't know what they are collectively trying to achieve? I hope to start working on this with Elliott and have something in the next few months.
2. | I love Tom Hanks! It might be one too many Nora Ephron films or perhaps how genuine he seems, but this story about him and his wife is sweet.
3. | Natural Sunscreen. The last few years I've joined the movement of trying to reduce the number of chemicals I consume and put on my skin. As beach season approaches, I think I'll try to make this natural sunscreen and see how is wards off the rays.
4. | Faith, Hope and Love. In early March, I heard about Stephanie in the Skimmbassador facebook group I'm a part of. I've been following her story and want to share so all my fellow prayer warriors can add her and her family to your list. She is so strong and such a testament of faith.
5. | Ted Baker. I am LOVING everything new from Ted Baker this spring, The Sipnela A-Line Dress, the London Plunge One-Piece Swimsuit,  The Clarbel Fit ad Flare Dress, The Barrica sneaker…. really ALL OF IT!