If you're anything like me, you're definitely in tune to what's new in the beauty department. While I usually do research to figure out "what's up," I really hate having to dig deep to get in the know. I'm surprised it's taken me so long to figure this one out, considering I've been using Argan Oil for over a year and Keratin shampoo at least six months, but I've finally gotten around to figuring out the difference and thought I'd share with you what I found.
Argan Oil is derived from the Argan tree in Morocco, hence the synonymous name: Moroccan Oil. The oil adds shine to the surface of hair and improves compatibility of other products by adding a protective coating that also moisturizes. Argan oil enhances the hair's appearance but does not repair damage.
Keratin is great for dry, parched, brittle or damaged hair. Keratin rebuilds from the inside out making strands shinier and more durable. There are two types of Keratin: A.) Replicine Functional and B.) Hydrolyzed Keratin. Always seek Replicine Functional Keratin (sometimes called oxidized) as it is the most true version of the chemical. Hydrolyzed Keratin has been chemically altered and broken down preventing the benefits of the product to be delivered.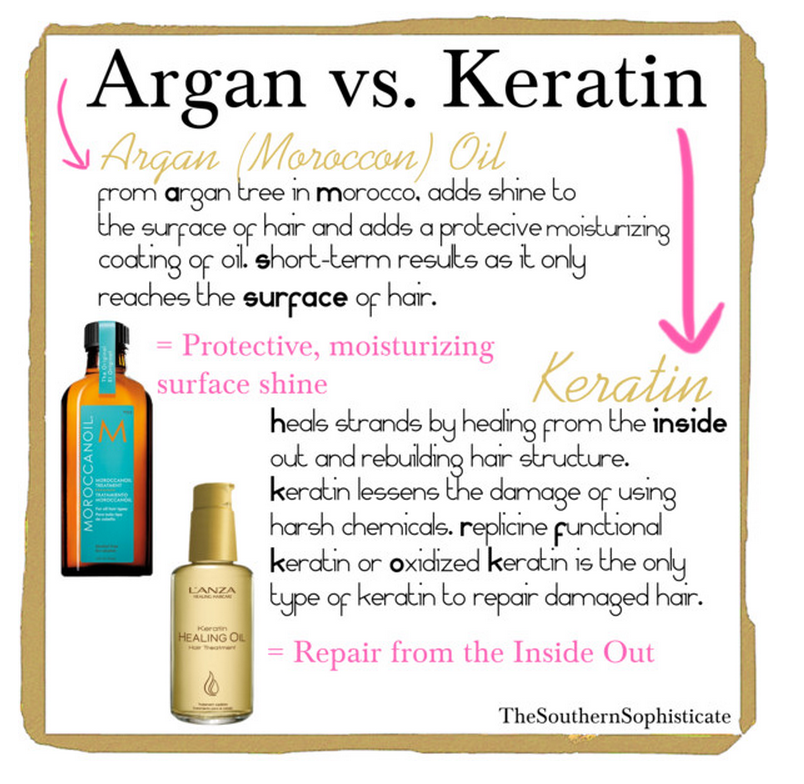 If you're looking for shine, Argan is your go to product. If damage control is what you need, add Keratin to your list. Thanks to Heaven Salon Magazine for making it easy for me to learn the difference. I hope the above image makes it easy for all of us to remember!