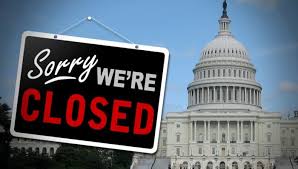 You may know by now that on Friday evening, the federal government failed to approve a continuing resolution to approve funding for most government operations. Until a resolution is passed, the government is considered "shutdown." In 2013, the United States experienced a two week shutdown resulting in lost revenue for national parks, federal employees were furloughed and millions of Americans were impacted by the halting of critical programs they rely on. One industry impacted in 2013 and already being impacted in 2018 is the real estate, or housing, industry. To give you a better understanding, I am sharing with you the key takeaways of how this may affect you.
1.) The Federal Housing Administration is still endorsing Single Family Mortgage Loan Programs, but not HECM or Reverse Mortgage Loans. The FHA is not committing to any multi-family programs during the shutdown. Premiums and claims are still being collected and paid, but expect delays as the agency is running as a smaller staff.
2.) The National Flood Insurance Program was attached to the continuing resolution that failed to pass. Because of this they are unable to issue or renew flood insurance policies. Existing policies will not be affected until 30 days after expiration and homebuyers will be able to assume existing policies. Additionally, claims will continue to be processed and paid as usual.
3.) Fannie Mae and Freddie Mac are considered government sponsored agencies as they are regulated by the Federal Housing Finance Agency. Both agencies are continuing operations and are expected to relax procedures for closings to continue without Social Security numbers and I.R.S verification. This does not apply to re-financings or loan modification.
4.) The U.S. Department of Agriculture which manages rural home loans is not issuing any direct or guaranteed loans and closings will not occur.
5.) The V.A. Loan Guaranty Program is operating and 95% of employees are expected to continue normal functions during the shutdown.
6.) The I.R.S. is closed and is unable to fulfill requests for tax return transcripts. Even though the FHA and V.A. are operating, the shutdown of the I.R.S. could impact such loans as many lenders require transcripts in processing for different types of loans.
7.) Social Security Administration is closed and has suspended most customer service operations. Both Social Security and income verification vary among lenders. Some lenders may adopt policies that allow for closings to occur but are subject to verification before the loan is available for GSE (government sponsored enterprise) purchase of the loan.
Bottom line: the government shutdown does inhibit the ability for the buying and selling of real estate. While a transaction can occur, it is likely to be delayed or even postponed. Additionally, the already challenged NFIP (National Flood Insurance Program), is tied in being able to issue or renew flood insurance policies.